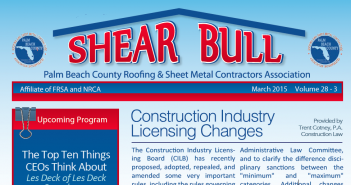 » Shear Bull – March 2015 This month's Shear Bull features an article entitled "Construction Industry Licensing Changes" By Trent…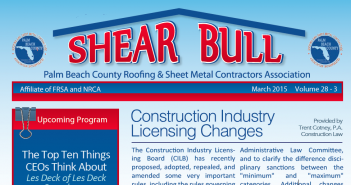 » Shear Bull – March 2015 This month's Shear Bull features an article entitled "Construction Industry Licensing Changes" By Trent…
About PBC Roofers
0
October BBQ Gathering
View pictures from our latest October Member Meeting on the 22nd-  BBQ Networking event by the pool.
About PBC Roofers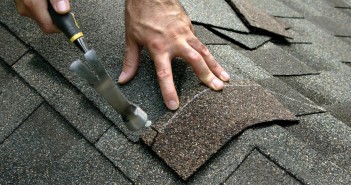 0
Why Join PBCRSMCA
MEMBERSHIP Information on issues and events that affect the roofing industry. Monthly Newsletter and emailed updates Monthly dinner meetings…
P.R Roofing & Building Products Inc.
"Manufactures Agents Roofing & Waterproofing Systems"
29 Bentwater circle               Telephone (954) 818-2085
Boynton Beach Fl, 33426     Telephone 561-889-6398
---
DaVinci Roofscapes | 1413 Osage Avenue | Kansas City, KS 66105